The Kelly Report – 6 months in
We've been following Little Images photographer and franchisee Kelly Altria since she joined the franchise back in June this year (you can read our previous articles about Kelly here and here).
Now that 2018 is pretty much in the can, we caught up again with Kelly over the phone to find out how the final stretch of the year had panned out for her.
The good news is that Kelly is thoroughly enjoying the work…
"It's been very busy, but also very rewarding." she says, "The work is everything – and maybe even a little bit more than I thought it would be when I first joined. The Head office is always there when I have any questions about any aspect of the work, and Kathryn (admin manager) has been an absolute godsend! When I joined I was an entrenched 'Nikon girl', but I've had to swap to a Canon which is the preferred Little Images camera, and Kathryn and the Little Images training team – Jason and Geoff – have always been on hand to answer my occasional questions on the little differences between the cameras."
Leigh Farley at Little Images initially indicated that she would probably have around thirty jobs before the end of the year, although in fact, it ended up being half as many again, with Kelly completing forty-five this year since a standing start in July.
"Yes, it's great to see her doing well, although it is what I expected – in the first few calls we had I could see that Kelly would be good with the families," says Leigh. "For anyone who is good with people and follows the system it is not hard at all to do, as we take care of so much of the business systems so franchisees can concentrate on the servicing of the clients, and Kelly has done this very well. With the three essentials covered off in the Little Images model – marketing, training, and customer service – I believe Kelly will be running a very successful business in 2019."
The challenges for Kelly have been more on the business side including, inevitably, the very small number of parents who are not happy with the photograph taken on the day. In fact, Kelly has only had to refund two photographs in the past six months, which, given that she has photographed thousands of children already, is a pretty good rate (plus she has many glowing reviews on our Facebook page).
"Little Images wants parents to always be completely delighted with our photos," explains Kelly "and so we are totally happy to refund any parents who are not 100% happy with their child's photographs."
Occasionally children or staff members miss photo day for various reasons and Kelly is happy to do what she can to accommodate this, either taking the photos on another day at another centre in the same group or occasionally asking another centre where she is taking photos if they are OK for her to take photos of a child from somewhere else who missed their own photo day. Almost all centres are more than happy to oblige.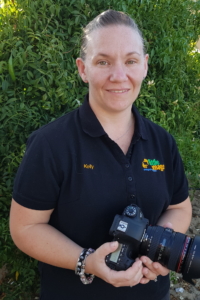 And what about that elusive work/life balance? She admits it took a bit of time to 'get into the rhythm' and to find that balance, but now she's now looking forward to 2019 with her youngest starting at school and a new (and she thinks slightly easier) schedule.
The 2018 childcare photography season is now over for Kelly and so – for the first time in two and a half years – she is taking the entire school holiday period off and going to Queensland on a family holiday with her two daughters, aged four and eight.
And another benefit of the job… "I love working with kids, but I also get to hand them back after the photo shoot!" she says. "Plus this is one of the few jobs where I also get an occasional 'baby cuddle' – I got to hold a 14 day old the other day who came in for a photo with her sibling."
There are clearly some perks of the job not listed in the handbook!
Leigh outlines a little more detail on the Little Images franchisee training program…
"It all starts with the training. We have our basics training program that continues with our marketing basics program and these run for 8-10 weeks before we have our competency training program that is completed before any customers can be photographed.
Then we have a training program usually after around 6-8 months after completing the basics training. This training is to ensure the photographer's understanding of what they are doing and how to better service their customers.
The marketing is something we spend a considerable amount of time, money, and effort on when starting a new franchisee – this is to give the franchisee as much work as we can in the first year without overloading them from a customer service point of view.
This is key to long-term business success, and from the feedback, I have been getting from the directors and parents, Kelly is doing a great job of looking after her clients! When Kelly says we want all customers to be 100% happy this is true, yes – we are photographing children so we have set ourselves an almost impossible task to achieve every time, although there is no reason we shouldn't try.
As I always tell directors when I photograph a centre, our job is to make your life easier. If a parent is not happy with their portraits or simply changes their mind about photos we sort it out.
Accidents happen and there have been many occasions over the years where a centre has called to order new photo packages set of photos for a parent that dropped them in the car park and the photos have been run over and destroyed. Our policy is to replace any photo packs for the centre and the parent.
To us it is a few prints amongst hundreds of thousands we print every year, so it's no big deal. For the parent, these childcare and kindy photography packs are the photos of their child that they want to keep and treasure for decades to come.
I even had one mum call only a couple of months ago to order prints, and during the conversation, I found out that she had prints given to her by the child's father, although somewhere along the line they had been damaged, so I let her know we could just replace them, with no need to reorder. Again no big deal to us although she was very happy to be able to have them replaced.
At Little Images it is all about how we can better serve the customers we have."
Meet Kelly – the newest Little Images photographer
An update from our newest Little photographer Kelly in WA
Like to become a photographer just like Kelly?  …you can let us know here
https://www.littleimages.com.au/wp-content/uploads/2018/12/LI_Kelly-with-camera_portrait-cropped.jpeg
616
750
L
https://www.littleimages.com.au/wp-content/uploads/2018/07/little-images-logo-260.png
L
2018-12-24 03:24:21
2020-05-20 14:34:09
The Kelly Report – 6 months in